Professional Kitchen Remodeling from Elite Contractors Who Always Go Above and Beyond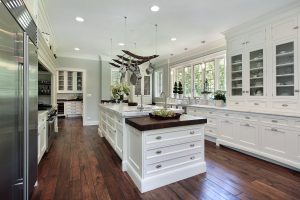 Beginning a kitchen remodeling project is a big task, and one that often requires the expertise of a seasoned remodeler. At NAPAC, which stands for the National Association of Professionally Accredited Contractors, we're proud to partner with elite companies that have a proven track record for providing top-notch services to homeowners. Our contractors must meet strict requirements in order to qualify for our organization, such as having a minimum of seven years of experience, being properly licensed and insured, having no unresolved complaints, and offering complete labor and material guarantees. We are pleased to be the most trusted name in home improvement for homeowners throughout the country, and this designation is due to the selectiveness of our qualification process.
When you trust a NAPAC-accredited contractor to complete a kitchen remodeling project at your home, you will receive:
A consultation that is focused on you, your home, and your needs. A consultant will discuss what you want out of your kitchen remodel and offer advice on the material needs and installation requirements.
An exact quote for the remodel, which is guaranteed for one year from the date of the consultation.
High-quality products that are designed to be beautiful, low maintenance, and long lasting. Our contractors don't scrimp on quality just to save a few bucks, but select products that are top-of-the-line and provide decades of enjoyment.
A complete timeline of your kitchen remodeling project, from start to finish, as well as frequent, timely communication throughout the project's duration.
Professional installations from experienced craftsmen who are courteous and efficient.
Our contractors can complete a variety of kitchen remodeling jobs for homeowners, such as cabinet refacing and cabinet replacement. They can also install new flooring, backsplashes, kitchen islands, countertops, fixtures, and so much more.
Your dream kitchen is closer than you think – just contact NAPAC today to get your free kitchen remodeling quote. We serve homeowners throughout the country, and we guarantee that our elite contractors will exceed your expectations.