For Vinyl Siding Installed to the Highest Standards, Turn to NAPAC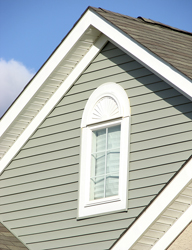 Vinyl siding is a cost-effective solution for people seeking to improve the exteriors of their homes. This type of siding is considerably less expensive than most types of siding and is far more durable as it's designed to withstand the elements and resist moisture which staves off rot. But poor installation, shoddy materials, and inattentive customer service can diminish your confidence in the contractor you hire to install your new vinyl siding. That's where NAPAC – the National Association of Professionally Accredited Contractors – comes in.
Our organization helps homeowners across the United States find experienced and reputable remodeling contractors who have a proven track record of outstanding customer service. To become accredited with NAPAC, vinyl siding dealers must be properly licensed and insured and have at least seven years of experience in the industry. In addition, they must have no unresolved complaints and have a 100 percent customer satisfaction rating as qualified by a third-party system. When you hire a NAPAC contractor, you can trust that your installation will be performed impeccably because all the companies we partner with are elite remodelers, never handymen. And, you can rest easy knowing that your new siding will last for years to come because NAPAC contractors offer only top-quality products. With a NAPAC company, you will get vinyl siding that's not only durable but is also:
Available in many colors, textures, and profiles, giving you the option of designing your home's exterior according to your own style
Low maintenance, saving you time and money to keep your home's exterior looking fabulous
Resistant to dents, to help ensure your home has long-lasting curb appeal
Additionally, all NAPAC contractors offer comprehensive labor and material warranties, so you can trust that your investment is well protected. With NAPAC, choosing an honest and skilled home improvement contractor doesn't have to be a leap of faith. Contact us today and let us you help you find a professional vinyl siding contractor you can trust.